EKJUT TECHNOLOGY BUSINESS INCUBATOR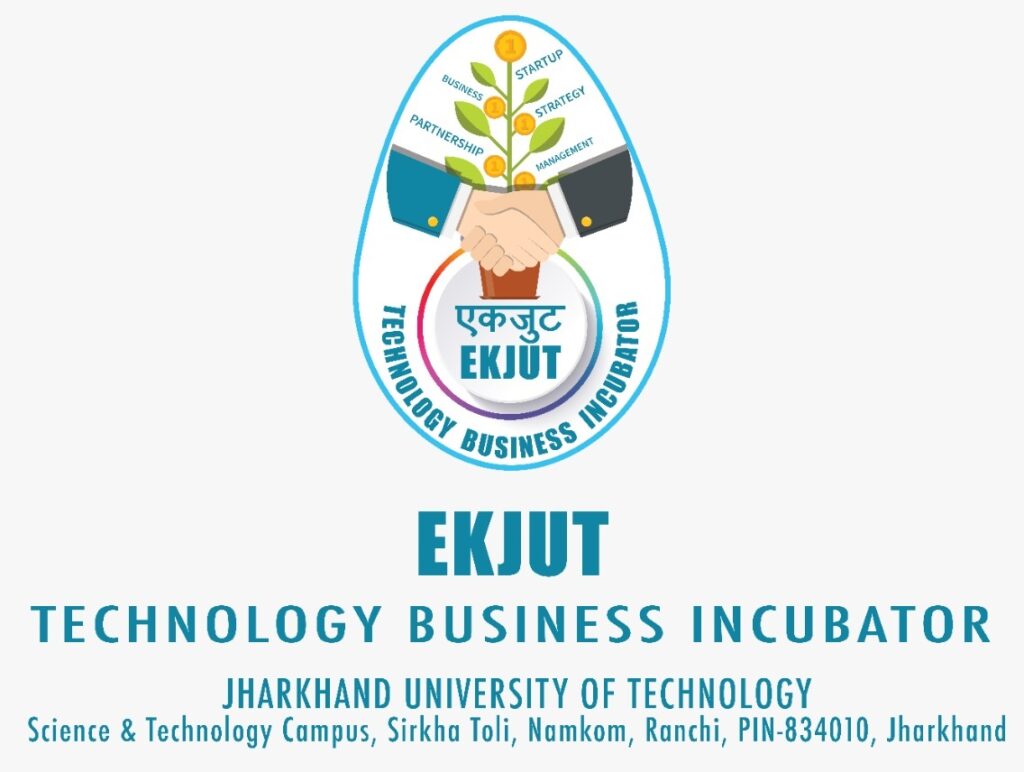 About
"EKJUT" Technology Business Incubator (TBI) has been established by the Jharkhand University of Technology, Ranchi on its lush green campus in Sirkha Toli, Namkom, Ranchi-834010, Jharkhand. The ambience is just apt for startups to house their initiative and excel. The name "EKJUT" is drawn from the university's vision to bring all the potent stakeholders of the startup ecosystem in the state together to stand united for the purpose of contributing to the startup movement of the country. This TBI would be governed by its Board of Governors (BoG) the apex body for the incubator. The BoG would be chaired by the Hon'ble Vice-Chancellor of the university and its members would comprise eminent persons from the fields of academia, industry, university officials and startup ecosystem facilitators, etc.
The Jharkhand University of Technology (JUT), Ranchi has been established by the Jharkhand University of Technology, ACT, 2011 (Jharkhand ACT 18, 2015), published vide Gazette No.-815 date08/12/2015. JUT is intending to promote the creation of centers of excellence in education and research in Science, Technology, Engineering and Management. The establishment of "EKJUT", Technology Business Incubator is a step forward in this direction. This incubator is being supported by Central Coalfields Ltd. (A subsidiary of Coal India Ltd.), under its CSR.
The EKJUT, TBI aim to create a conducive entrepreneurial ecosystem in the state that should go a long way to create opportunities for potential startups to come up and contribute towards the creation of more jobs and self-employment in the state and ultimately contribute towards overall economic well-being of the state that could lead to the lowering the poverty and raising the income levels in the state.
Incubate
EKJUT is now accepting applications from startups for incubation. The link for the application form is: https://docs.google.com/forms/d/1QXxvnbiu_uhyKGSGe-5h-ZO51rI6VxKyMtntQxlxAA4/edit 
We encourage budding entrepreneurs from the state to submit their application online, for availing of the incubation services at EKJUT. 
There is no last date for filling up the application for incubation it is available on a rolling basis. However, owing to a limited number of seats the early birds would have an advantage. Periodically, as an adequate number of applications are received, the applicants will be called to present their business ideas to the incubator's selection committee. Only, successful companies will be extended the incubation facility.
Preference shall be given to beneficiaries residing within a 25 Km radius of CCL establishments in command areas; startups promoted by women entrepreneurs, startups promoted by tribal community members of Jharkhand.
The thematic areas for the EKJUT TBI are as follows:
Environment, Water and Sanitation.

Renewable Energy and Clean Technology.

IT, IT-Enabled Services (ITES), and Internet of Things (IoT).

AI, AR/VR, Machine Learning, and Robotics with a special focus on the mining industry.

Industrial consultancy services.

Logistics and Transport.

Inclusive Education, Health and other social services.

Food and Agro-Processing.
However, it is not limited to the mentioned list and even the Startup ideas not covered under this list can apply.
Facilities
The selected companies will be offered incubation for a maximum period of 18 months from the date of signing the contract with EKJUT.
The general facilities shall include:
Dedicated office spaces for a team of up to two persons per startup.

Office furniture, chairs, and tables.

LAN/Wi-Fi

Utilities including DG power backup, Drinking Water facility, etc.

Housekeeping

Postal Address
Extended Facilities:
Visitors' meetup place (for a limited number of visitors).

Meeting room for startup team meetings, on demand, based on availability.

Training hall on demand, based on availability.

Access to JUT Library.

Access to JUT Labs.
Specialised Services:
Mentoring Support.

Seed Funding (Startups will become eligible to make seed funding applications in due course after getting incubated).

Paid Consultancy support.

Patent support.
Contact
Incubation Manager
"EKJUT" Technology Business Incubator
Jharkhand University of Technology,
Sirkha Toli, Namkom, Ranchi-834010, Jharkhand.
Email: tbi.ekjut@gmail.com